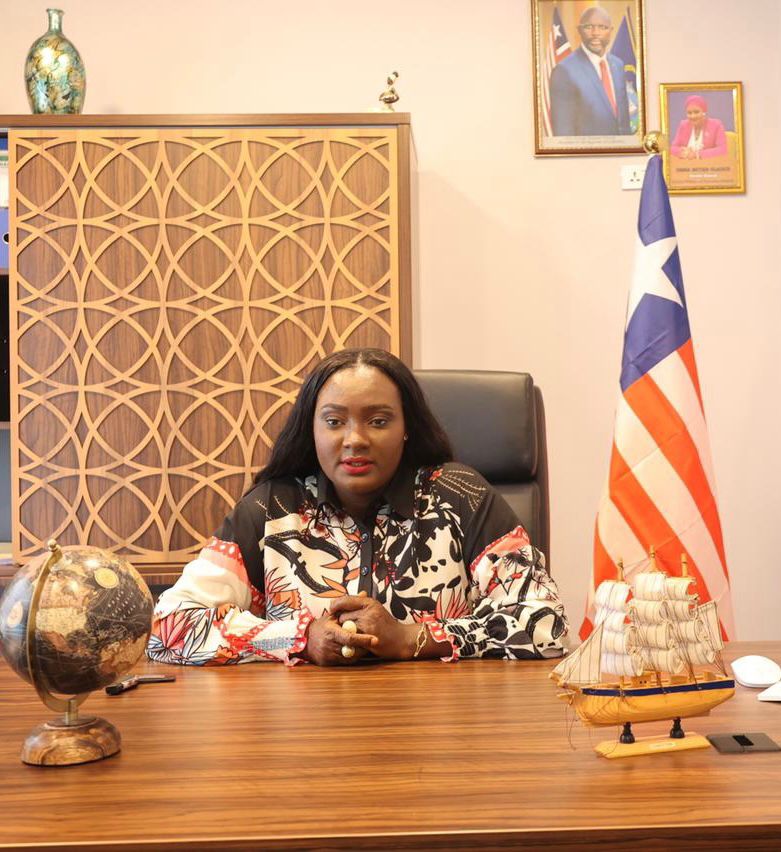 Born as a native of the oldest independent Republic in Africa, Liberia, Mrs. Emma Metieh-Glassco is an achieved Ocean Governance expert with over eleven (11) years of professional experience working in the fisheries and maritime sectors of Liberia, with a career objective of contributing to the growth and development of the full potential of Liberia's fisheries and maritime sectors through mainstreaming her scientific knowledge, expertise and skills; thereby enabling the sustainable exploitation of the sector's revenue generation capacity and support to the food security of the country.
Premised on her concrete academic credentials, professional competence and personal skills, the President of the Republic of Liberia, His Excellency Dr. George Manneh Weah reposed his explicit confidence in her person, through a Presidential appointment in February 2018 to serve the Office of Director General and Chief Executive Officer of the National Fisheries and Aquaculture Authority (NaFAA),  and was reappointed and confirmed by the Liberian Senate to serve a second mandate as the Director General.  
As Director General and Chief Executive Officer (CEO) of NaFAA, she is charged with the mandate as enshrined in the Act establishing the Authority to regulate all fisheries and fisheries related activities, inclusive of Aquaculture within the Republic of Liberia, and to maximize revenue generation thereby enabling an increased contribution to the National budget of the Republic of Liberia; as well as to establish and strengthen relations with international bodies aimed at attracting potential investments for the development of the fisheries sector.
Additionally, she has instated sturdy institutional reforms and internal polices, which has transformed the once underperforming entity of Government to a more vibrant and high performing entity. She has ensured Liberia's full compliance with all international fisheries related protocols as well as maintains Liberia membership with International and regional Fisheries Management organizations.  For Instance, in 2019, she ensured Liberia's accession and subsequent ratification of the Port State Measure Agreement, a Legal Instrument of the United Nations Food and Agriculture Organizations and has since been deposited at the Rome's Office. She championed the cause for a stronger Fisheries Management and Development law in 2019 that was passed by the National Legislature and signed by the President which lead to the establishment of a New Fisheries Regulation and Policy for Liberia. 
In improving coastal dwellers livelihood, she has established several innovative programs with the assistance of international partners such as the World Bank, the European Union, the Japanese Government and the FAO, attracting more than 88 Million US dollars to the sector. These programs have provided both environmental and economic impact, such as the net exchange program, the paddle to engine program, the transition from wooden canoes to Fiberglass boats, storage equipment such as solar freezer and fish handling equipment for womenin Fisheries, construction of fish market for fish monger, and many more.
Internationally, she has signed over 3 Bilateral agreements with countries such as Japan, Senegal, Ghana, Iceland, and Multi-lateral agreements such as International Whaling convention, the Cape Town Agreement, etc. These agreements have established confidence for investment in the Liberia fisheries sector.
She is a strong advocate for women involvement in the Maritime sector, a male dominated sector. She has been very engaged with International Maritime Organization, especially mainstreaming the inclusion of women in the Fisheries and Maritime Sectors. In 2019, she organized the local chapter of the Women In Maritime Africa (WIMAFRICA), Liberia Chapter, a regional women maritime body, where she served as its 1st President.
In 2021, with the assistance of African Union – Inter-African Bureau for Animal Resources (AU–IBAR), she established the Liberia Chapter of the African Women Fish Processors and Traders Network (AWFishNET), a continental organization of Women in Fish trade. The institution provides support to women in fish trade across the continent and improve income for fish traders.
In 2017, she obtained a Master of Science (MSc.) Degree in Maritime Affairs with particular emphasis on Ocean Sustainability, Governance and Management from the World Maritime University in Malmo, Sweden under the auspices of the International Maritime Organization (IMO), a specialized agency of the United Nations. During her study at the World Maritime University, she covered major modules such as: International Maritime Law and Policy, United Nations Convention on the Law of the Sea 1982, International legal and regulatory framework on Fisheries and biodiversity management, Maritime Delimitation. Other areas include: International Diplomacy and Negotiation, Impact of Climate Change on coastal livelihood and oceans (Adaptation and Mitigation Approach), State of the Marine Environment (challenges and threats to the blue economy), and Integrated Coastal Zone Management (ICZM). As part of extra-curricular activities during graduate studies, she established collegial relationship with
her compeers which earned her the privilege of serving as President of the World Maritime University Women's Association (WMUWA) from October 2016 to November
2017.
Still determined to bag additional knowledge in the fisheries and maritime sectors, she completed Certificate programs in Ocean Governance & Sustainable Fisheries in October 2017 from the Australian University and Rhodes University in Australia and Mauritius respectively.
She holds to her credit several other training Certificates when she participated in various Training seminars with specific focus on the fisheries sector, such
as: the West Africa Regional Collaboration for Monitoring Control and Surveillance of the Fishery Sector in October 2017, organized by West Africa Regional Fishery Project (WARFP-LIBERIA); Workshop on Operational Guide Implementation on Port State Measures organized by Sub-Regional Fisheries Commission (SRFC) in December 2013, Fisheries Enforcement and Prosecution Training in June 2013, organized by National Oceanic and Atmospheric Administration, USA; and Training workshop on Fisheries intelligence, Due Diligence and information Sharing-Achieving Effective MCS in West Africa in November 2012, organized by Duncan Copeland (WARFP's Fisheries Expert), among others.
More so, why studying, she has had the distinguished privilege of observing and/or participating in high level international conventions and sessions where key policy actions were drawn for the global management and conservation of fisheries, such as: the 67th session of the Technical Cooperation Committee (TCC) organized by the International
Maritime Organization (IMO), a specialized agency of the United Nations, August, 2017 in London, United Kingdom where she attended as National Observer; the 71st session of the Maritime Environment Protection Committee (MEPC) organized by the International Maritime Organization (IMO), from July 3-7, 2017 in London, United Kingdom where she attended as National Observer; and the Abidjan Convention COP 12 in Ivory Coast, West Africa from March 27-31, 2017, where she attended as
National Observer.
The gathering highlighted the International Convention on Integrated Ocean Management Policy in Africa with focus on Cooperation, in the Protection, Management and Development of the Marine and Coastal Environment of theAtlantic Coast of the West, Central and Southern Africa Region (22 African countries).
Preceding the aforementioned, she graduated from, the University of Liberia, in 2011 with a Bachelor of Science (BSc.) in Zoology.
Eager to impact every minute of her life's journey, she engaged into service with the student community while pursuing undergraduate studies and later became Vice President
of the 91st Graduating Class of the University of Liberia in 2011. She launched an internship program for graduating students with several public and private institutions.
Before her appointment by His Excellency Dr. George Manneh Weah, Madam Glassco, upon her return from Graduate studies at the World Maritime University in Sweden, was hired by the National Fisheries and Aquaculture Authority (NaFAA) as Senior Fisheries Policy Analyst in 2017, with primary responsibilities of formulating appropriate policies to address prevailing issues affecting the fisheries sector of the Country, effectively monitoring and evaluating the impact of policies that have been implemented or are being implemented, as well as providing policy, legal and economic advice and assistance on investment and related matters in the fisheries sector of the Country, among other duties thatwere assigned her.
As a way of strengthening her career path internationally, she worked as an Intern Researcher for the International Maritime Organization (IMO), in London, the United Kingdom in July, 2017. While at the IMO, she assisted in the conduct of research especially in data collection, compilation and analysis, and learned best international practices with combatting Illegal Unreported and Unregulated (IUU) Fishing through a world class Resource Centre. She did not hesitate to get acquainted with the work of the IMO in relations to the concept of Challenges caused by IUU Fishing in the offshore for Liberia's Fisheries based on a global review and analysis, as well as acquired practical knowledge of IMO instruments, in particular SOLAS (International Convention for the Safety of Life at Sea), the IMBSBC Code (International Maritime Solid Bulk Cargoes Code) and the IMDG Code (International Maritime Dangerous Goods Code).
In July 2012, few months following her completion of Undergraduate studies, she took employment as Fisheries Monitoring Centre Officer with the West Africa Regional Fisheries Project-Liberia (WARFP), a World-Bank Sponsor Project of the then Bureau of National Fisheries under the Ministry of Agriculture. During her five years' service in this position, she monitored the movement of fishing vessel plying along the Liberian territorial waters which helped in preventing illegal fishing activities and generated revenues for the government through fines, from vessels caught in illegal activities; as well as gathered intelligence on fishing vessels operations and practices in West Africa and other regions including obtaining details of vessels (country flag, weight, gross tonnage, IMO number etc.) that are suspected of IUU (Illegal, Unreported and Unregulated) Fishing, thereby providing sufficient information for persecution by the government of Liberia.
With an early desire for personal and professional growth, she took on a three year task as an Intern Writer in September 2009 at the United Nations Mission in Liberia (UNMIL) Radio where she was responsible for the creation of narrative scripts for recorded programs to help grass rooters resolve conflicts, assisted in the production of the famous Creek Town (community drama) and Women's World (live magazine) radio programs, and the preparation of accurate reports on recorded programs for onward submission to the UN Headquarters, New York through her supervisor.
From January to March 2009, she served as Local Assistant/ Supervisor- Contractor of the African Women Development Fund (AWDF) at Plot 78 Ambassadorial, East Legon, Accra, Ghana. Significant amongst her achievements at the AWDF House was the establishment of numbering system to track down the movement of books collected from the AWDF mini library to the Colloquium, the conduct of informal surveys which established the needs of specific books, and the documentation of unused materials from the program for future purposes.
In September 2009, she served as a Photography Model for the Liberia Travel and Life Magazine (LTL), a one-time considered, Liberia Premium Magazine as well as Brussels Inflight Magazine. She became a Reporter and Writer/ Marketing Assistant at the Liberia Travel and Life Magazine (LTL), where she wrote situational reports on the day to day activities of LTL magazine, conducted internet research on neighboring countries pertaining to their historical background and the secret behind their success for the magazine, and wrote informative Articles on Cultural Health and fitness. As Marketing Assistant, she engaged potential organizations to advertise in the magazine and
created marketing strategies to sell out the copies of LTL magazine.
Realizing that volunteerism enables one become an instrument of change as well as widens ones' horizon by the exposure to different kinds of situations and environments, she elected to render part of her youthfulness to volunteering for the ultimate transformation of society by becoming a United Nations Global Youth Ambassador from April 2013 to 2014 under the Advocacy Group for Girls Quality Education of the World at School Program, an initiative of the UN- Secretary Special Envoy on Global Education. Also, from October 2008 to March 2009, she became a volunteer Communications Officer at the Ministry of Foreign Affairs with particular focus on the International Women's Colloquium. In this portfolio, she assisted in designing and implementing communications strategies for the International Women's Colloquium and disseminated messages to sensitize people in the rural and urban communities about the program.
Madam Metieh-Glassco is a devout Christian with strong tolerance for religious diversities, and a resilient family woman who has successfully surmounted the challenge of striking a balance between professional obligations and family life. She is the daughter of Dr. Paul C. Metieh a retired Medical Doctor and Mrs. Mary Coleman Metieh, a retired Professor from the University of Liberia. She is married to Mr. Eric W. Glassco, Sr. and their union is blessed with two children, their daughter, Eris Laurina Glassco and their son, Eric W. Glassco Jr.
She believes in the tenets of democracy which primarily guarantees the rights of all to freely participate in national decision making through elections, as well as the right of a person to freely associate and disassociate with a particular political and/or social persuasion at any and all time so required. She is a stout proponent of women's rights and empowerment; as well as, supports themainstreaming of competent women in the national governance process of Liberia.