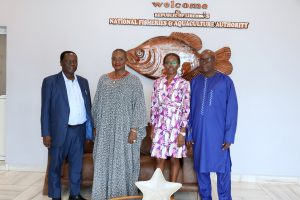 The Liberian Government through the National Fisheries and Aquaculture Authority (NaFAA) has committed to host next year's Annual Session of Ministerial Conference of the Fisheries Committee of the West Central Gulf of Guinea (FCWC).
Last year's conference was held in the Ghanaian capital of Accra, from November 30 to December 2.
The commitment was made in Monrovia on Wednesday April 26, 2023 by Director General Emma Metieh Glassco when the new Secretary General of the FCWC, Dr. Djihinto paid an acquaintance visit to authorities of the National Fisheries and Aquaculture Authority. The conference intends to enhance regional fisheries cooperation.
Madam Glassco informed the visiting FCWC official that her administration was excited that her country, Liberia, was selected to host the conference, noting that the Liberian government through its fisheries management body will ensure the successful holding of the gathering.
Responding to request by the Director General for the FCWC to provide technical assistance to ensure the EU's yellow card on Liberia's fisheries is lifted, Dr. Djihinto extolled NaFAA for the level of reforms that support responsible fisheries, promising to lend support to efforts that would lead to removing the yellow card.
The meeting between Madam Glassco and Dr. Djihinto also highlighted proposals for a joint patrol between Liberia and Cote D'ivoire, follow-up on the ratification of Convention C188 and the Cape Town Agreement on working conditions on board fishing vessels.
The Fisheries Committee for the West Central Gulf of Guinea (FCWC) is an intergovernmental body established in 2007, with a Secretariat hosted in Tema, Ghana. The FCWC facilitates cooperation in fisheries management between its member countries: Liberia, Côte d'Ivoire, Ghana, Togo, Benin, and Nigeria. The countries have several shared fish stocks and identified the need for cooperation and shared management of these resources.