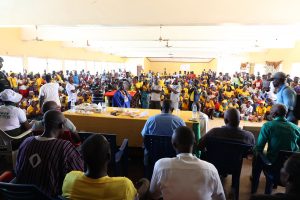 –The Director General of the National Fisheries and Aquaculture Authority, (NaFAA) has completed the tour of four coastal counties including Rivercess, Sinoe, Grand Kru and Maryland, assuring fishermen and fishmongers of government continuous support to the fisheries sector.
Madam Emma Metieh Glassco and team during their 14 days of stay out of Monrovia visited fishing communities across the four coastal counties and held discussions with county authorities, fishermen now formed into cooperatives and fishmongers, (women involved into the processing and sale of fish).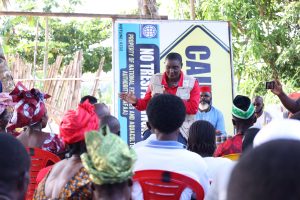 Some of the fishing communities visited in southeast Liberia were fish town, Harper fishing communities, Cavalla, middle town and rock town fishing communities all in Maryland, Grandcess and Sass town fishing communities all in Grand Kru county, Kru and Fanti fishing communities in Sinoe and  Kru and Fanti fishing communities in Cestos City, Rivercess.  
The purpose of the tour was among other things, to hold discussions with the established fisheries cooperatives on the usage of the free Yamaha outboard engines they have received from the government through NaFAA, to clear issues surrounding lands acquired for the construction of landing sites and at the same time, hold discussions with the various fishmongers on NaFAA's plan to provide loans through its partners for the enhancement of their activities.
During madam Glassco several meetings in the four coastal counties she urged all fishermen and fishmongers to form part of the established fisheries cooperatives.
Moreover, some of the fishermen who are part of the cooperatives disclosed 'they are fully utilizing the outboard engines' during discussions with madam Glassco and team.
Others disclosed that they have not began the utilization of their engines since the free distribution by government, however said they are carving canoes to begin using those engines.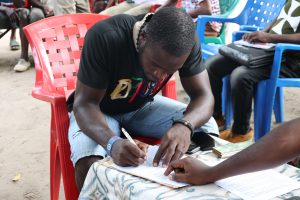 DG Glassco assured the Fishermen and Fishmongers that the CDC led government will not relent in the provision of basic fishing implements that would empower and transform of their livelihoods.
"let me inform you all that president George Manneh Weah says he will always remember you his people, fishermen and fishmongers"
Meanwhile, Fishermen and fishmongers across the four coastal counties visited are commanding the government through NaFAA for the provision of free nets, outboard engines and lifejackets which they said 'are impacting their fishing efforts'.
The fishermen and fishmongers said they are satisfied with the level of help government has provided them over the years.
"this is the only government that has taken the issues of fishermen and fishmonger into serious consideration with the provision of free lifejackets, outboard engines and fishing nets"