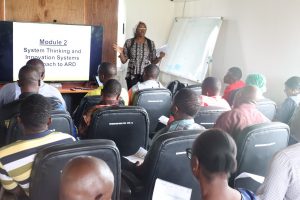 (Gbarnga City Bong County)–Liberian fish farmers are undergoing training in better management practices in aquaculture and aqua-business. The two- day Agribusiness Workshop is gear towards strengthening Aquaculture Innovation platforms and market-Led Growth.
The training which is taking place at the Central Agriculture Research Institute in Bong County is being facilitated by WorldFish and the Forum for Aquaculture Research in Africa, (FARA).
Making remarks at the start of the two days technical trainingThursday October 5, 2023, the Deputy Director General for Technical Services at the Liberian Fisheries Authority (NaFAA) says the government of Liberia will at all times develop the technical skills of fish farmers to enable them become productive and bring about marketable transformation within theaquaculture sector.
The NaFAA Deputy Director General for Technical Services informed the participants that, there are robust legal regime to adequately address the needs of establishing and operating Aquaculture & Inland Fisheries in Liberia.
Hon. Boeh mentioned that technical innovation in fish farmingas well as Inland fishery sector has the potential to link farmers to the various markets to supply fish and earn profits.
He also encouraged the stakeholders to fully utilize the knowledge and skills that would be acquired within the next two days for the benefit of individual participants and fish farmers in general.
At the same time, the Director of Aquaculture and Inland Fisheries, Mr. Zizi A.S. Kpadeh has cautioned the participants to focus on fish feed as it is the single most expensive operational cost. Mr. Kpadeh declared, "if you want to make money, you should buy quality feed and have a well-trained and dedicated feeder."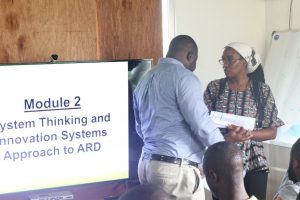 Moreover, the workshop is being financed by the African Development Bank through WorldFish and the Forum for Aquaculture Research in Africa, (FARA) under the program Transformation of Africa Agricultural Technology, (TAAT) and it is also facilitated by WorldFish and FARA.
Facilitators from WorldFish at the two days workshop include Prof. Bernadette Fregene (TAAT Fish Compact Leader), Babatunde Mercy (Account Assistant) and Akuwa Elizabeth (M$E).
At the same time, the Forum for Aquaculture Research in Africa (FARA) is represented at the two days Aquaculture workshop by Karen Munoko Agribusiness Specialist and Johnson Ukpong Finance Manager as facilitators.
Meanwhile, the participants at the Aquaculture stakeholders' workshop are from Montserrado, Margibi, Bong, Bomi, Lofaand Nimba counties respectively. They are also from several institutions and organizations including the Central Agricultural Research Institute (CARI), The Bong County Aquaculture and Inland Fisheries Federation , the University of Liberia,Department of Aquaculture and Fisheries Science, Bong County Aquaculture Cooperative Society, Lofa County Aquaculture Cooperative Society , Nimba County Aquaculture Cooperative Society, Cottington University College of Agriculture  and Sustainable Development, Faimaba Fisheries Development Cooperatives, BRAC Liberia and other private farmers.